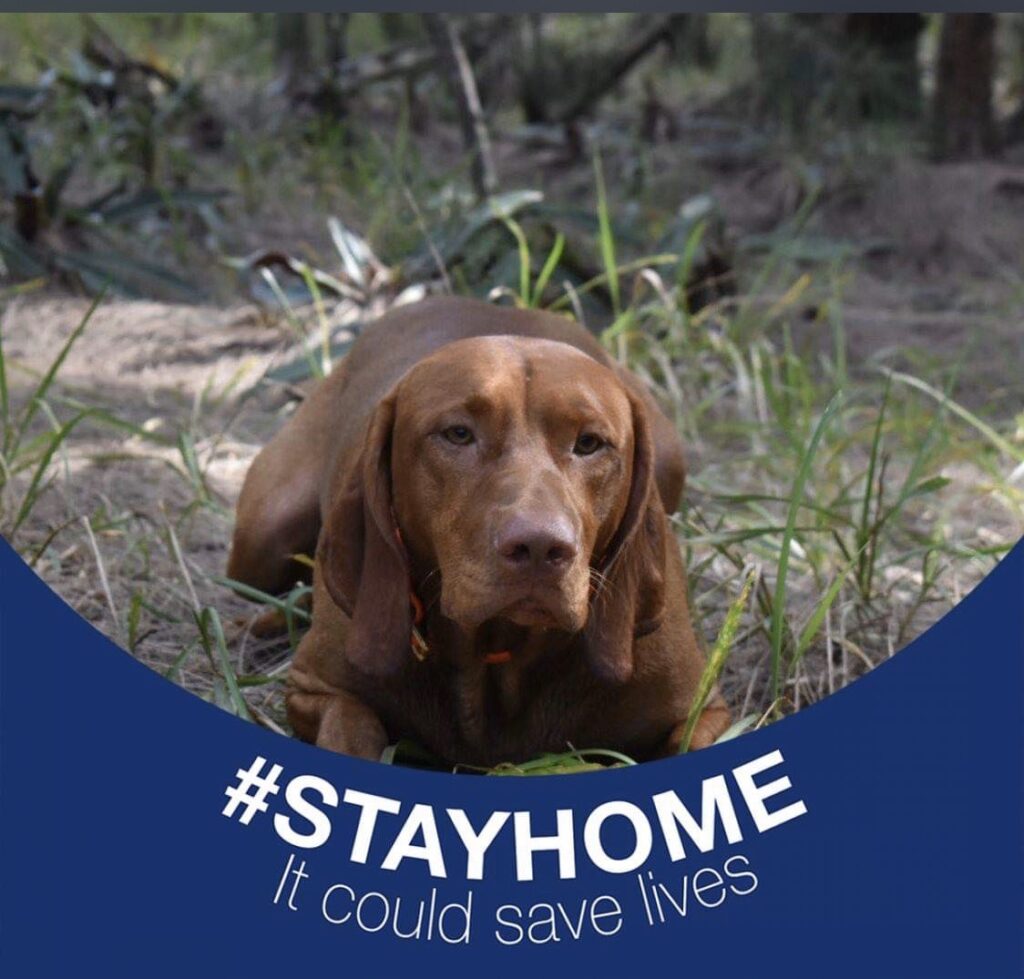 Fortunately, Argo recovered quickly and fully without any adverse effects after sustaining a life-threatening bite from an Eastern Diamondback Rattlesnake. Thereafter, his life continued as usual with activities that included daily off-leash runs and swims in a variety of beautiful parks where he chased prey on the ground and in the water, along with fetching 'chuckit' balls and frisbees.
Periodically, for a change of pace, we went to his favorite dog-friendly beaches where he loved to romp in the surf and yep, chase 'chuckit' balls and frisbees. Argo always joined us for lunch at a dog-friendly restaurant after the beach, and dinner from time to time. However, his table-side eating manners would not impress Emily Post.
This healthy, exercise-oriented routine continued through mid-March when the indiscriminate Coronavirus pandemic reared its ugly head engulfing America in an unforgiving path of sickness and incalculable deaths. We live in Broward County, a large part of Southeast Florida, which was and remains one of the most severely infected areas in America. In attempting to contain its spread and protect the public from the coronavirus, State and local governments implemented some prudent measures that included closing all parks, beaches, restaurants, and non-essential businesses. 
Initially, there was no uniformity in applying these restrictive measures between the cities in Broward County and our favorite parks didn't close. However, that came to a screeching halt on March 30th when Governor DeSantis issued a very restrictive 'shelter in place' executive order that applied to all of Florida. 
In addition to implementing curfews, every park and recreational area, including fields traditionally used for football, baseball, and soccer was closed. Yep, a real bummer indeed, particularly since Argo is used to running off-leash, swimming, and chasing prey every day. Cutting to the chase, Argo is an extremely high energy dog that requires far more than a few daily walks in the neighborhood and these restrictions were a non-starter.
It was time for innovation and as the old adage goes, 'when the going gets tough the tough get going'… and that's what we did. First, we went to our usual parks just to confirm that they were actually closed, and found locked gates with signs posted in conspicuous places advising of the closures. This dire situation required immediate action so we created a strategic plan of attack to circumvent the arduous conditions imposed on Argo's freedom by thinking outside of the box and executed it, the 'shelter in place' order notwithstanding.
We sleuthed around seeking large grassy areas that were sparsely occupied where Argo had free rein to run freely, fetch his 'Chuckit' ball and play frisbee without any concerns about being busted. Thus far we've been moderately successful, although Argo's swimming is limited to our home pool until this devastating coronavirus pandemic is under control and life as we knew it returns to a reasonable degree of normalcy. Below are some pictures of Argo having a blast doing what he loves most… running, chasing and playing.
| | |
| --- | --- |
| Not my usual stomping grounds, but no complaints | Got this one lined up – background is Ft Lauderdale Airport full of idle planes |
| | |
| --- | --- |
| Snagged it on the fly | The ball is airborne and I'm ready to go |
| | |
| --- | --- |
| Tracking that ball like it was a squirrel | Closing in at warp speed |
| | |
| --- | --- |
| A little breather after a lot of fetching | No waves, no prey… but not too shabby |
Please don't get the impression that I'm taking the gravity of Coronavirus and its impact on our lives and economic condition lightly, as that's certainly not the case. While a little levity in these uncertain, daunting times never hurts, I firmly believe that following the important advice being disseminated by the CDC, leading experts on epidemiology and infectious disease is critical to beating this deadly pandemic.
Their advice includes the following and is underpinned by exercising common sense:
Avoid touching your face

Wash your hands frequently

Wear nitrile gloves
It is particularly important to comply with the orders issued by Federal, State, and local officials that address social distancing, face masks, curfews, and where applicable, staying home.
Be cautious and safe.