Wow! Argo turned 6 months old today.
It's hard to believe but Argo has already been with us for four months; where has the time gone?  He came into our lives like a little tornado that continues increasing in velocity and has completely changed everything… mostly for the best.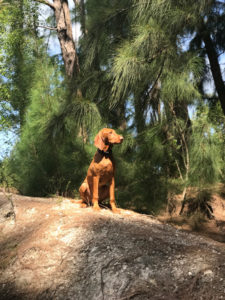 Argo has grown from a pint-sized pup to a 40 lb dog, although he still acts like a little guy stealing shoes, messing with Stan, and anything else to initiate a chase, jumping on mommy's lap, snuggling up in bed, and lots of kisses, kisses, kisses. 
The most frustrating time for us was the first few months of waiting for Argo to receive all required vaccinations while having to restrict his outdoor activities to prevent exposure to Parvo and other such diseases. However, during that time he was socialized as much as possible with people and dogs we knew had been vaccinated and were in good health.
Finally, the Big Day arrived when he received his final set of vaccinations and officially entered the 'big boys club'. To celebrate, I prepared a succulent piece of Atlantic Salmon for him that he devoured in record time.
With vaccinations completed, we began going to beautiful parks where he could run free, swim in the lakes, chase squirrels, lizards, iguanas, and a variety of feathered creatures.
Argo's most exciting day was the first time we took him to the ocean at the dog beach in Juno Beach, Florida. This is Florida's finest and largest dog beach where dogs can run free on the white sand, play in the surf, and have a blast. At first, he was hesitant to get in the ocean but loved the feel of sand under his little paws. However, after a few minutes he noticed the big dogs running into the water chasing balls and frisbees… and simply couldn't resist!
He was the smallest dog there but ran right into the waves without hesitation like a seasoned trooper to join the fun. The larger dogs weren't affected by the waves that tossed Argo's little body around like a toy, but that didn't stop the little guy! He showed those big dogs and us some true grit and never gave up! Argo had grown a little on our next visit and focused on charging through the ocean waves chasing his own frisbee instead of other dogs.
He's met several dogs of all sizes and breeds over the last few months but his favorite by far is another Vizsla named Phoebe, who we came across by chance. While walking the little guy in a local park we ran into a lady who commented on Argo's 'show-quality' appearance' and asked where we got him. We told her the breeder was "Cheswynd Vizslas" in Northern Florida, and she mentioned a lady whose Vizsla was from the same breeder and suggested contacting her to set up a playdate. 
We spoke with the lady and interestingly discovered that Phoebe is Argo's aunt by virtue of the fact that they have the same mom only from different litters. Soon thereafter Argo met Phoebe, pictured on the right in the green collar, and they romped around like long-time pals. The similarities in appearance between the dogs are incredible – they look so much alike. We've met up with Phoebe a few more times, and with Argo growing so fast, he's now almost as tall and fast as his 'auntie'.
All in all, Argo has dramatically changed our lives; we have very little time to do any of the things we used to do, and he can be a little 'bugger' wanting constant attention, and sometimes being a bit 'headstrong'. The bottom line, however, is that he's a little 'love-bug' and soooo smart!  He has been incredibly easy to train and walks on a leash without pulling… unless a lizard is in view. Except for occasionally disobeying 'Come' when he's distracted by and wants to play with another dog, Argo has the basic obedience commands down pat. Thus far he's been somewhat reluctant to learn to 'shake' with both paws consistently, but we think he's simply playing us for more treats. 
Now that we've settled into somewhat of a routine, we'll try to maintain our blogs on a more regular basis since there is always something new and exciting to report with Argo…
Below are some pictures of Argo when he was a little guy.
| | | | |
| --- | --- | --- | --- |
| Checking out things in a food cart | Making sure Dad gets the right stuff | Snuggling with Mom | |
| | | | |
| --- | --- | --- | --- |
| Waiting for brunch | Supervising the maintenance man | Daring Mom to chase me | Busted by a Fort Lauderdale cop |