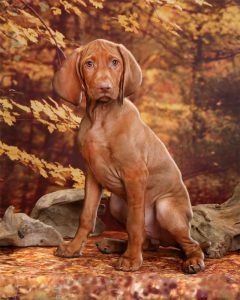 Argo at 10 Weeks
Previously, Stan and I respectively owned a Doberman and Dalmatian and wanted a similar size high-energy dog. We considered a Vizsla on the recommendation of a good friend who owned one as a family and hunting companion. Among other qualities, he couldn't stop raving about the dog's versatility, intelligence, and loyalty. In the early fall of 2017, we began diligently researching a few breeds that met our criteria and long before Argo was born, ultimately decided that a male Vizsla puppy would be the third member of our family. Having settled on the breed, our mission became finding a reputable breeder with a liter in development from exceptional parents who expected the birthing to be late 2017 or early 2018. Well, It didn't take long to discover that researching the breed was the easy part of the endeavor.
Vizslas aren't as common a breed of dog as those that are more generally familiar e.g., Labs, Golden Retrievers, Poodles, etc., and we found that reputable breeders were less common as well. However, we were determined to persevere and overcome all obstacles that came our way in searching for a potential breeder. Our determination paid off in November when we contacted a gentleman at the Tampa Bay Vizsla Club who provided the names of four or five reputable local breeders with liters in development. He also provided invaluable information and suggestions on questions to ask, what to look for, and how to proceed with a reputable breeder.
We contacted each breeder and were pleasantly surprised and impressed that each required us to complete a lengthy, thorough questionnaire to gain information on whether we and our lifestyle would be compatible with the home environment they wanted for their prospective pups. In all modesty, based on the responses we were immediately accepted as potential parents.
The next step was meeting the breeders and pregnant bitches at their homes which, combined with our responses, provided them with valuable insight for determining whether our temperament would be compatible with that of a pup. As an aside, we live in southern Florida and each breeder was in northern Florida which entailed many 5 – 6-hour drives with overnight hotel stays on each trip.
When the traveling was finally completed the most challenging and nerve-racking part of our mission began: waiting for the prospective litters to be born and being selected as parents for a male pup. Finally, on December 31st, Deby Broussard of Cheswynd Vizslas called to advise that she had a litter of eight and would have a 'boy' for us, but it would be approximately 5-6 weeks for personalities to emerge before she could select the perfect one. Needless to say, we were ecstatic and couldn't wait. 2018 certainly began on a fantastic note for us.
Early in January, we were so pumped up and couldn't wait to see the litter so we drove to Deby's home in Dunnellon hoping for a clue as to the one but were premature… not disappointed. 
Finally, on February 25th we drove to Dunnellon again and picked up Argo, who is wearing the red collar pictured above. True to Deby's word, he was indeed the perfect fit. 
As an aside, Argo has a long, impressive lineage of champions, but for the sake of brevity, I'll only list the first names of his parents who are pictured below with their call names.

Addie is the dam; her titles are CH & JH. Chase is the sire; his titles are GCHB; RN, BN, MH, NA, CA, and NAVHDA, Pz1
| | |
| --- | --- |
| | Am Gr ChB Cruiser's All The Right Moves RN BN MH NA CA NAVHDA Pz1 |